slitter
Introducing "Slitter" non-woven cut to length friction crosscutting and compression slitting roll-up machines.
The Slitter is a cut to length, slit and roll-up machine.
Product Information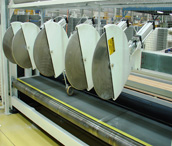 The Slitter is made of a heavy steel construction for durability but is still sized for portability and manageability.
The machine comes ready for assembly and is just a matter of bolting together, joining the chains and air supply. The unit can be fitted for single or three phase power supply.
The unit comes preprogrammed but can be easily set by the purchaser to automatically stop at a pre-determined product length. A safety guard / material clamp lowers and the cutter traverses from one side to the other in just seconds.
The compression blades and solid bed roller are made of hardened steel to provide easy cutting and with adjustment.
Cutting to length is kept easy and accurate by using a high speed friction cross-cut blade.
Motor drives are strong quality units providing essential reliability and performance.
The incorporation of the latest PLC and inverter technology enables a simple and easy to use control panel and allows precise feed speed settings.
Slitter comes with and encoder type electronic digital measuring counter with a preset length mode .
Just type in the required cut length of material and the slitter stops at the preset length.
The unit comes complete with an emergency safety shut-off switch. Slitter also has a clamping/cutting cut-out switch, which provides all the safety you require and deserve. If the cutting safety guard is not down you just can t cut.
Slitter comes complete with easily adjustable nip rollers to assist with the more difficult products.
The combination of careful design, quality construction and modern technology makes the Slitter Cut-Length Machine a must. We are sure it will become an important integral part of your companys production line equipment.
Specifications:
Compression Blades
Width: 1.5m to 3.5m
Weight: 1500kg
Electrical: 4 Kw 3 phase or single phase by special order
Air Supply: 7 bar 0.3 cubic metres per minute
For more information or a written quote please don t hesitate to contact one of our friendly staff here.
Did You Know
CTS Group was established over 43 years ago by the Cooper Family in order to supply and service quality textile machinery. It is currently managed by Jason Cooper and has over 100 years of technical knowledge in its senior management team alone. More